SUNNYVALE, CA – A student from Cogswell College's Game Studio will present a newly produced, school-developed mobile app game during the 2014 SIGGRAPH Conference's "Appy Hour" showcase in Vancouver.
Cara Ricci, one of Cogswell's Game Design Art students participating in the project-based learning Game Studio, will be presenting the new game, titled Tangram Jam, at SIGGRAPH. The game was developed and produced as part of a Cogswell Game Design & Development course. SIGGRAPH's "Appy Hour" is designed to showcase the next generation of mobile applications and their creators. Demos by developers of interactive, animated, location-based, visualization and game apps will be presented.
Tangram Jam is an iOS and Android mobile educational puzzle game created by students attending Cogswell's Game Studio. The game is aimed at third- and fourth-grade students, and has been designed to teach them concepts of adding fractions. The game leverages visual, auditory and kinesthetic learning style techniques in a fun and stimulating environment. 3D characters and procedurally generated music are also featured in the game.
Jerome Solomon, Cogswell's Dean of the College and Director of Game Design & Development program, says,
"Cara Ricci's contribution to the exciting new kids game Tangram Jam has been invaluable. She completely redesigned our user interface and contributed much of the game's UX (user experience). She also worked as a character animator on our team. The look and feel, UX, and animations featured in this new game are critical to making its game play experience fun and engaging for third- and fourth-grade students."
Adds Cara Ricci, "Almost everything on this project was new and different for me, since I had never previously worked on a video game project with a team comprised of more than five people. There was a lot of teaching and learning from each other, since we had to pass off work and take on unfamiliar tasks. It was exciting for me to have learned such a huge amount of information in a very small period of time. Our original idea was to develop a game that would teach fractions to children in a fun and visually pleasing manner. I believe that the kids who ultimately play Tangram Jam will learn math through shape and color association, as well as how fractions are basically pieces of a whole. Hopefully, it will also teach them how to make decisions quickly, and how to organize and categorize within a restricted time limit."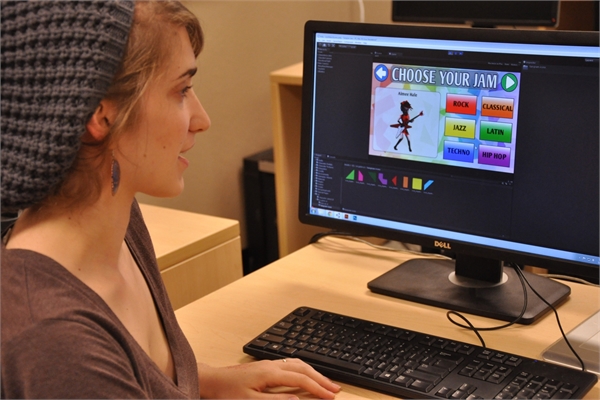 As seen on Computer Graphics World: http://cgw.com/Press-Center/Siggraph/2014/Cogswell-Student-Presents-Mobile-App-Game-at-SIG.aspx
Other sources:
Computer Graphics World
Animation World Network
Gamasutra
Shoot Publicity Wire
Games Press
Tags: Cara Ricci, Cogswell College, Game Design & Development, Game Studio, mobile gaming, Siggraph, student projects, Tangram Jam